From the Principal's Desk

It gives me great pleasure, as Principal of Roemichs International Schools, to welcome you to the official Roemichs website. We are sure that it is and will continue to be a valuable source of school news and information for parents, students, and visitors to the site.
In addition it shows what a wonderful, modern and well equipped school Roemichs is. We have recently celebrated our 9th birthday as a school and we promise to carry on providing a safe and secure learning environment, while at the same time offering a wide array of exciting and challenging academic programmes.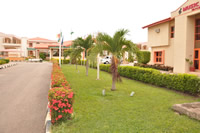 Roemichs International School was founded in September 2006 by Chief Mrs. Jumoke Harb, a passionate lover of children and education. Commited to selfless services and education of the young ones, she found her dream in Roemichs as a platform for actualising her education and training passions for the young ones.
On the 5th October 2006, with 27 children, Mrs. OJumoke Harb found a vision fulfilled when Roemichs was formally established. Today it is one of the fastest growing schools in Nigeria and has become widely known for the slogan represented in the school's motto: 'excellence in all things'.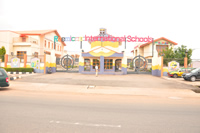 Roemichs recognises that students are entitled to a curriculum which is characterised by breadth, balance, coherence, relevance, differentiation and progression. The school attaches the following meanings to these terms. It will incorporate all that is good in both the National and International fields of education which will help to broaden both horizons and opportunities of our students. 
Breadth
A broad curriculum brings students into contact with the elements of learning (knowledge, concepts, skills and attitudes) and the varied areas of learning experience (aesthetic / creative, human and social, linguistic and literary, mathematical, moral, physical, scientific and technological).
Balance
A balanced curriculum ensures that each area of learning and experience will be given appropriate attention in relation to the others in the curriculum and as fits each child.
Coherence
A coherent curriculum is planned as a whole and embraces the different areas of learning and experiences. These areas are seen as interconnected and each will contribute to overall progress and achievement.